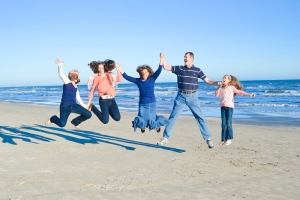 Richard – "The Dad" – is an engineer and artist, but would rather be a part time comedian and full-time daydreamer.  Those don't pay very well, so he'll try and stick with engineering until he finds a rich uncle he doesn't know exists.
Cindy – "The Mom" – is a mom, imagine that one for a minute or two.  She is a part-time speech-language pathologist, but full-time she's the family nurse, cook, counselor, and ninja.  Beware of the ninja!
The Girls – also known as "Amber, Sophia, and Elizabeth," our pride and joy – are the students and audience to Richard and Cindy's comedy routine of travel.  For the most part, they enjoy our ideas but from time-to-time are seen rolling their eyes.  Which, for your information, is strictly forbidden.
As kids growing up, travel has always been in our blood. Both Cindy and Richard traveled with their families. Before meeting, Richard lived in Italy and Cindy did a study abroad in Israel.
As a young married couple in college, we thought it was more important to backpack Italy instead of buying a new couch – one you could actually sit on and not need a chiropractor afterwards.
As a family, we have lived in Europe, Puerto Rico, Florida, Arizona, and finally broke-down in Texas.  From here, we got the idea to disconnect for a year and travel.
Today, Richard and Cindy are busy raising teenage daughters, chasing off boys, and thinking of the next adventure.